Venturing the farthest northeast for a blog so far, i decided to visit Toronto's famous Tollkeepers Cottage.
What?!!?!?!? the Toll-What?… never heard of it?… for shame!!!
WATCH me visit the Tollkeepers Cottage @ Davenport & Bathurst – CLICK BELOW

-Shot, Complied & Edited by J.NADLER-
Back in the 1800's in what was then known as Upper Canada, private companies put up toll booths to charge the public for the maintenance and general servicing of important, oft used, yet not overly abundant routes and trails.
One such trail became known as Davenport road.
Before being considered an actual road, it was an important trail for French fur traders in the 1600's, and for the first European settlers who arrived in the area in the 1790's, and was slowly converted into a built road during the 19th century.
Major improvements began in 1833, when the government of Upper Canada authorized the incorporation of companies to build, maintain and control specific sections of road. The winning bidder was responsible for improving the road and collecting tolls to recoup the investment.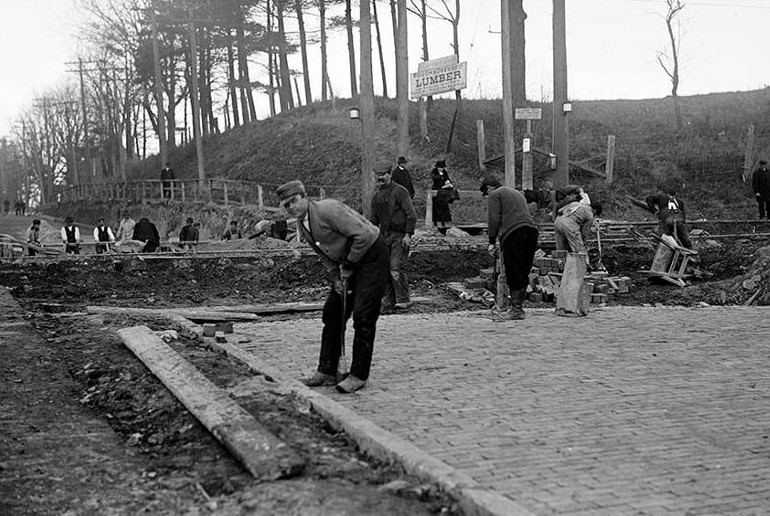 The companies built tollgates and hired men to operate them. Between the Humber and Don Rivers, Davenport Road had five tollgates. Tollgate #3, which included a cottage to house the tollgate keeper and his family, and is the focus of this blog and was at Davenport Road and Bathurst Street (then known as Cruikshank's Lane)
Tolls in 1851 on one such area road were 6 pence for every vehicle "drawn by two horses or other cattle" plus or minus adjustments for mules, asses or whatever.
One tollkeeper sometimes collected tolls by extending a half coconut attached to a stick out to the travellers (especially when they were sitting way-y-y up on top of bales of hay).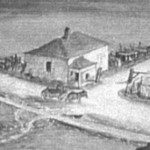 Thus far, research has shown that Tollgate #3 was operating from at least 1850. The Cottage has been dated at 1835 as it has construction features from the 1820s to 1840s. It re-used materials from other locations and may have been built elsewhere and moved to the site. An 1875 painting by Arthur Cox (above)shows it on the east side of the road. A later sketch by Marmaduke Matthews shows it moved to the west side, losing its front porch and rear addition in the process. By 1895 it had been relocated to a lot two blocks to the east to begin a second career as an ordinary residence. When that lot came under redevelopment, the building was threatened. The Community History Project began raising funds to restore this historical treasure. Subsequently, the Toronto Transit Commission agreed to house the Cottage on its Wychwood Streetcar Barns Site, and in June 1996 CHP volunteers moved the Cottage to that location.
Below is a picture of the farm that was located on what is currently the TTC Wychwood property as late as the 1930's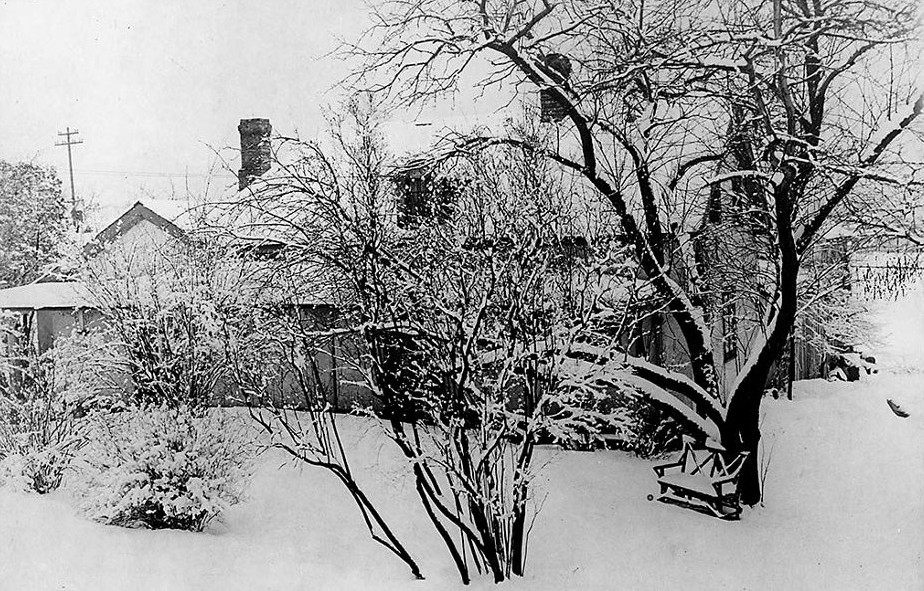 Please LIKE me @ www.facebook.com/jaynadlerVO